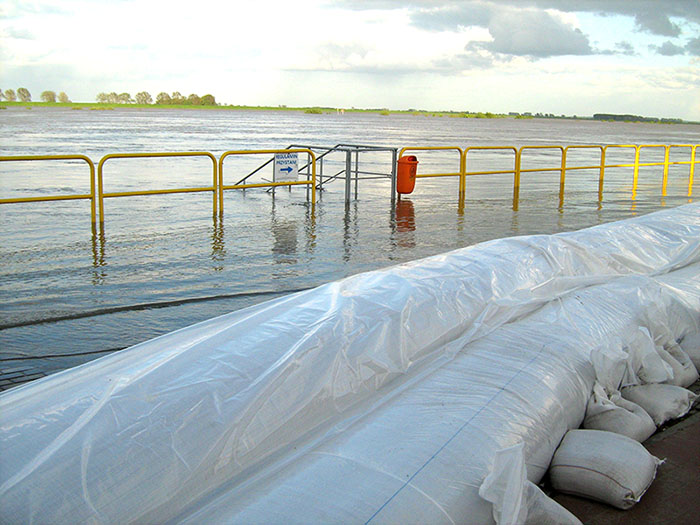 PORTABLE FLOOD PROTECTION SYSTEM
We offer an economical, time-saving and work of people flood the system.
revolutionary new method of controlling the flow of water using water. It is easy to use and provides very good results, and saves 90% of the cost of traditional methods. The advantages of the system are: light weight, ease of handling, storage and installation. Our solution uses two sleeves and available water.
inner sleeve is made ​​of polyethylene, while the external technical fabric laminate or polyethylene. The inner sleeve is filled with water. Outside is its shell. Relying on each other (folded in half) inner sleeve enclosed in the outer ensures complete stability of the dam.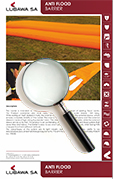 APPLICATIONS
The system is lightweight and easy to use. It can be used on any terrain. Field requirements amount to the possibility of using a pump and the use of the water source. Thanks to this system is the ideal solution for controlling the flow of water and can be used as flood protection, limiting the extent of wetlands and protect facilities against flooding. The system guarantees quick and efficient use of such hazards as flooding, leaking sewage, toxic substances, etc.
protect against flooding,
is about 90% faster in use than stacking sandbags
easy to store, transport and use, and is reusable.
METHOD
The system consists of two sleeves. Up to 10 m of on a possibility needs 2-3 people hydrant hose, floating pumps e.g. Niagara Falls, and water. filled time of one section is about 4-5 min, depending on the pump capacity. Working dimensions one section after filling with water:





height of about 40-50 cm (depending on terrain)
width of about 100 cm,
length of 10 m (in one episode is approximately 3,000 dm3 of water),
weight about 11 kg.