Heavy Duty Rubble Sacks Builders Bags FULL PALLET WHOLESALE PRICE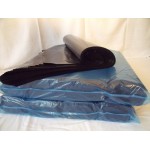 BS101/Pallet Prices £11.99/100.16.000 pcs.inc.UK Delivery.
SIZE: 520mm x 780mm ( 20" x 30") Thickness 100 microns (400 gauge) Color:Grey& Black
SPECIAL OFFER- Full Pallets 16000 pcs Packing 25pcs x 10= 250 pcs 1 plastic batch
PRICE INCLUDES 5 WORKING DAYS DELIVERY YOU WILL NEED TO LIFTING FACITES
AVAILABLE AT BOTH ENDS OF THE JORUNEY.
THE BEST NR 1 SELLING BAGS.
USEFUL FOR HEAVY DUTY RUBBLE WASTE BRICKS.WOOD GRAVEL PLASTER ect.
more info please call me: 07791975644 Andrew. or info@lestersolutions.co.uk